January is the perfect month to organize your closet and declutter your life. Can you imagine the reward for your efforts? You'll open your closet doors every morning to an organized, harmonious wardrobe? That dream can easily be a reality if you follow some straightforward steps and recreate your space with function and purpose.
The psychological effects of spatial organization have proven to reduce stress, free up your mind, and re-energize your spirit. Did I mention the amount of time and money you'll save now that you can visually see what you have to wear, options to create new outfits, and items you may need?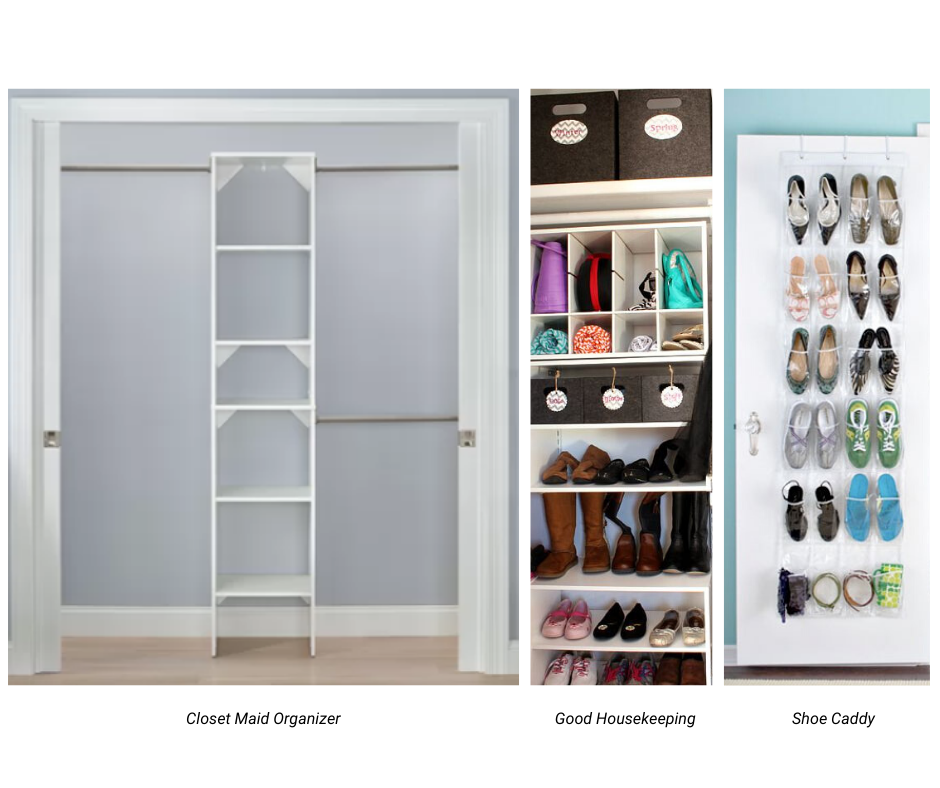 First up, making the most of your space. Redoing your closet thoroughly will allow easy maintenance throughout the seasons and add value to your home. An empty closet is a great time to paint or wallpaper and add lighting before you choose a closet organizer. An excellent investment, organizers can be found on YouTube as a DIY project, Building Supply Stores, or Closet Organizer Companies. If you have a smaller budget, take advantage of the many bins, shelves, shoe caddies, hooks, and other affordable items found at discount or dollar stores.
The second prerequisite is proper hangers. Although wooden hangers are known for their strength and durability, my favorite is the velvet hanger. Their slim feature allows more space in your closet, and some feature cascading hooks which let you hang clothes vertically. Eliminate hangers that are wire, old, out of shape, and broken. Once you begin transferring your clothing to new hangers you will be amazed at all the old ones that end up on your bed! Recycle your old plastic hangers and donate wire hangers to thrift or second-hand stores.
You have created more space and better function; now it's time to weed through the wardrobe. Create three piles:
1. yes pile 2. no pile 3.maybe pile
As you are transferring to better hangers, get rid of the clothes you know you will not wear again (put in the 'no' pile). Only 'yeses' will go back into your closet. The 'maybes' can be further sorted into bins or bags in your room:
1. alterations/cleaning
2. donations/consignment
3. out of style/worn out
4. doesn't fit/doesn't suit
5. recycle
6. off season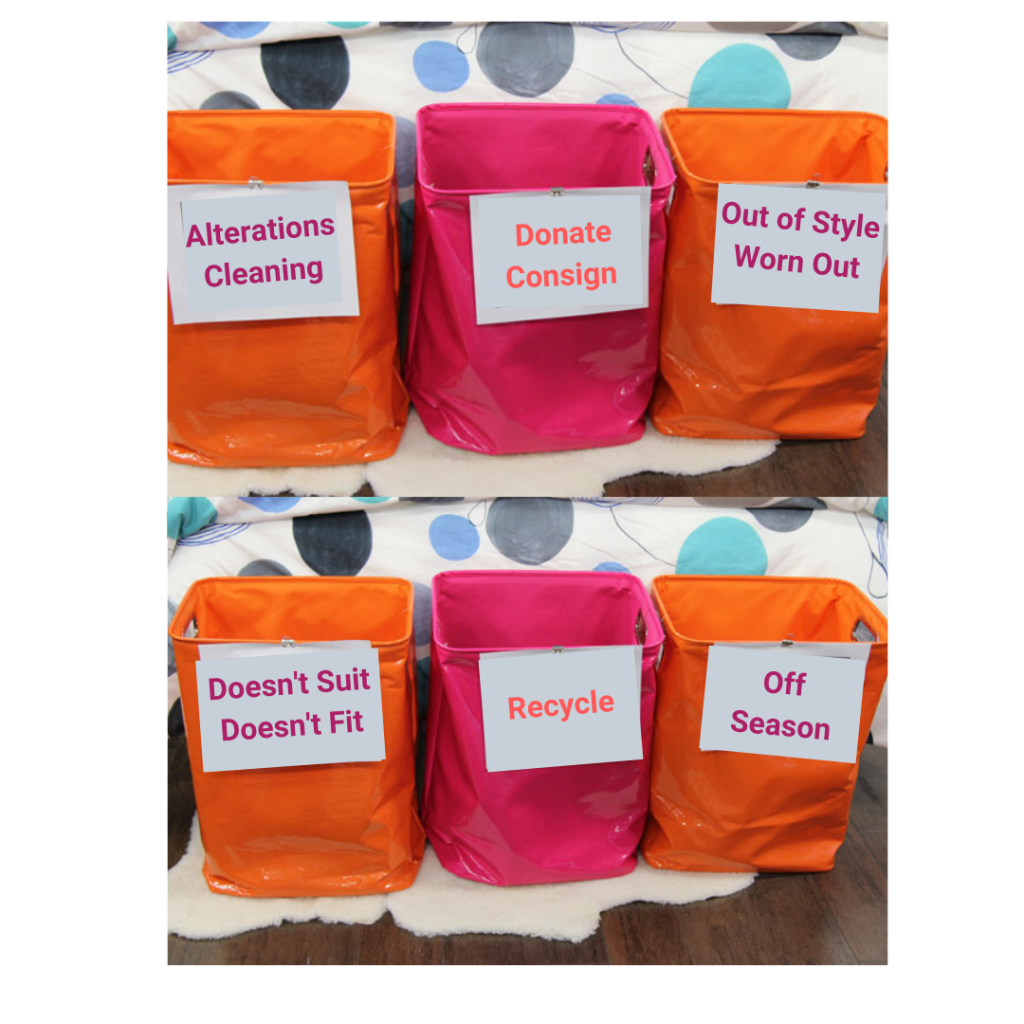 You may have a new skirt that has never been worn because it simply needs to be hemmed – bin 1; pants that you love but need a seam repaired – bin 1, a great dress you got on sale that doesn't suit your body shape – bin 4; whatever the reason, put in the appropriate bin or bag and don't return it to your closet until the issue has been handled. Remember only yeses in your closet. Yes, you may keep an emotional item or two from your past, but a closet full of them only creates confusion.
Returning clothes to your closet should follow a system. There is no right or wrong order. For example, I prefer to hang my clothes in sections. On the higher rod, I sort tops in order of sleeveless, short sleeve, 3/4 sleeve, and long sleeve. On the bottom rod I have a section for skirts, pants, and sweaters. That works for my brain, but you may choose to sort in blocks of colour or keep your clothes together in complete outfits. Whatever method you choose be consistent. I also include a section for empty hangers that keeps the closet neat and is much easier than rummaging through the racks trying to find one.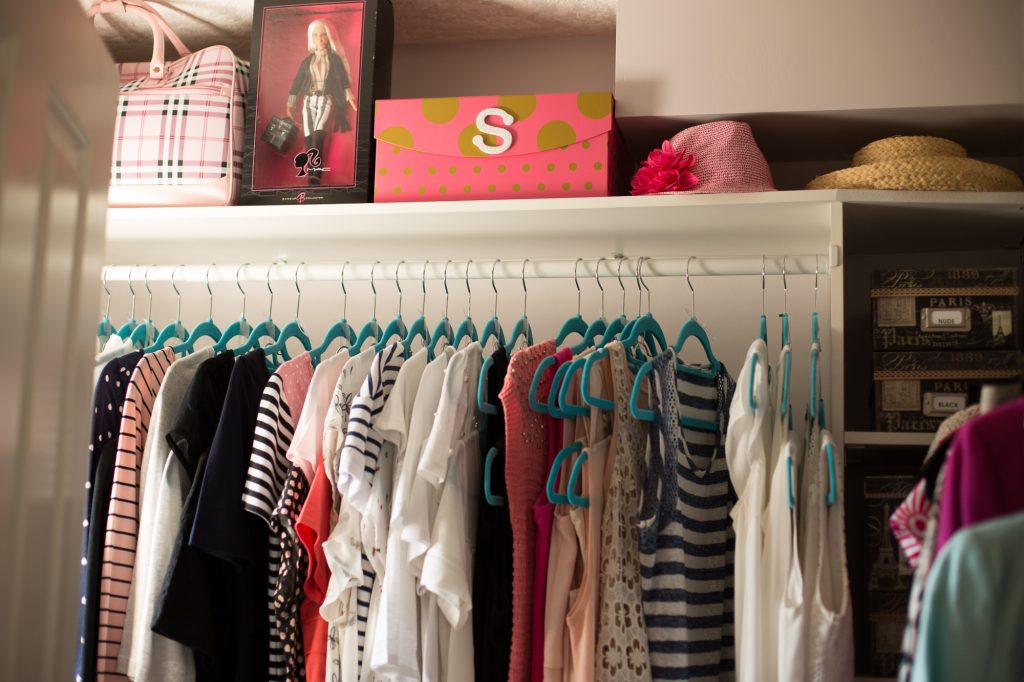 This last suggestion REALLY helps me assess clothes I don't wear anymore. Each Spring and Autumn, as I refresh my closet for the coming months, I place each item onto the rod with the hanger facing backward. As I wear an item, I put in back into the closet with the hanger facing forward. When it's time to put away clothing and bring out the new season, all the hangers that remain backward are clothes I have not worn at all. Hmm, that's a good sign it's time to part with the items. I also have a large bag or bin in my closet for pieces I put on and realize they just don't work; they go directly into the bag, providing a great way to consistently keep decluttering throughout the season. And…you. are. done. I can't wait for you to open your closet doors each morning!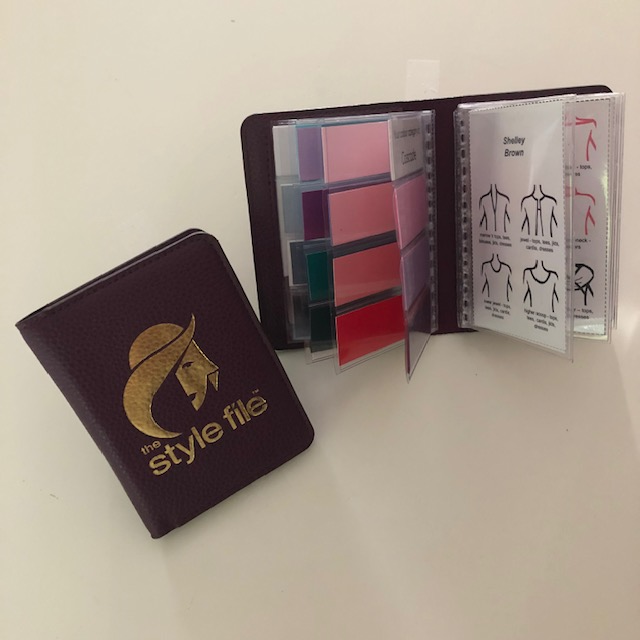 ps. "A word to the wise," one of my Mom's many sayings that I never appreciated until I became older. And here's the wisdom: to purchase clothes you love, you need to know how to dress your body and individual proportions. Let our Style File E-consultation show you how,saving time and money, and looking fabulous everywhere you go.
Check it out at https://stylefilesystem.com/product/e-consultation/