How do I say this nicely? You've been brainwashed!
Thinking that you are a smart shopper and knowing how to shop smart are two very distinct mindsets. Whether we attribute our love of shopping to the evolution of the 'gatherer,' or whether we are merely pawns in the retail 'sale' game, our shopping can be frenzied or random at best. This erroneous mentality saves little, wastes money, and confuses wardrobes.
It is well known that women have a propensity when it comes to the subject matter of shopping. But beware, our natural abilities must be harnessed with skilled techniques or…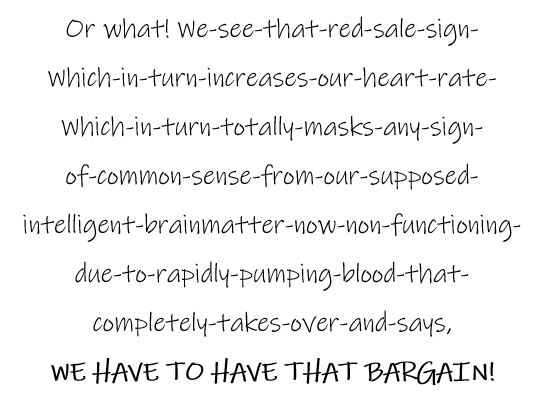 Now, where was I?
Most skills begin with an elementary understanding of basics. Practice and implementation of the basics increase ease and proficiency in the specific skill. The old saying, "practice makes perfect" yet again proves itself. Hoping this topic has been introduced with eloquence and intelligence…

Shopping is a skill. Your clothing choices depend on three basics of personal style: silhouette and body proportion, colours that suit you for this time of your life, and clothes that suit your current lifestyle.
Many of us dress bodies we know little about. If you do not know the details of your proportion such as long or short waisted, how to determine your NSB (length of neck, breadth of shoulders, size of bust), long or short in arms and legs, and so on; how can you choose styles that will flatter your shape?
Another helpful tool is knowing your best colours: for this time in your life. Along with the constant change of colour in the market place, our colouring changes throughout the stages of our lives. Colour is free, why not choose a hue that will naturally flatter your skin tone, hair colour, eyes and personality. Correct colour choices depend on the sum of those attributes.
Thirdly, clothes that suit your present-day lifestyle makes simple sense. Make a list of what you do in a day, a week and a month. Does your clothing reflect those activities? The reality is we do not need lots of clothes; however, we do need clothes in our closets we reach for on a day to day basis.
To shop smart is to learn the three basics of personal style. You will save yourself time, money, and oh there is a little, no huge, bonus. You'll step into your style and look amazing!