Many people have an eye for fashion; an expert personal stylist has the tools that set them apart. Contemporary skills in body concepts, current methods, and positive terminology provide a personal stylist with the knowledge to accurately determine individual style. These skills translate into consumer confidence and repeat business.
Someone who has discovered their personal style reveals on the outside who and what they're all about on the inside. A woman's size, weight, and measurements have nothing to do with personal style: her silhouette, proportions, and body concepts do.
   "Style is the visible cohesive expression of your inner personality
and your outer physical attributes." ~The Style File
When you teach your clients why certain items do or do not work, not only are you teaching them to avoid clothing mistakes, you inspire them with self-love, self-esteem, and new-found confidence to shop smart.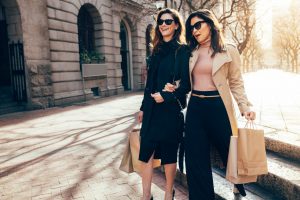 Consultants' antiquated terms of the last century have evolved into a personal stylist's fresh approach to support body positivity. Demeaning terms such as pear shape, apple shape, heavy in the thighs, (the list goes on) perpetuates the struggle with self-acceptance and body shaming. Choosing unemotional and constructive terminology encourages clients to keep an open mind to learn the features of their style. Rather than labeling someone a pear or a triangle, how much kinder (and more useful) to indicate the correct silhouette that represents her outer profile.
Personal style is powerful in today's visual society. Social media, the selfie, and the celebration of diversity now shape many of our choices in life. Clothing and personal style are a huge part of how we choose to be seen.
A personal stylist has become a valuable resource to each client.  Comments such as, "Wow-I-love-this-outfit! I would never have tried this off the rack." "I can't wait to go shopping" (most common phrase after a consultation) creates a delighted customer. Delighted customers translate into satisfied and happy clients. Repeat business is the best compliment you and your business will receive.