A QUICK RECAP
Background Checks (week 1) and Identification (week 2) revealed your favorites styles, colours, size range, stores to shop, your personal style, and your clothing lifestyle. This week "Fashion Forensics" concludes our series.
WEEK 3: FASHION FORENSICS
Profile: Silhouette
Physical Evidence: Proportions
Decision Making: Colour
Who taught you how to dress your body? Maybe you were lucky to have a fashion-forward mom or big sister, but as we learned last week, most use the trial and error method which leads to frustration and mistakes.
The good news is we now have a method to easily learn our unique fashion requirements. For over two decades, our Style File system has given thousands of women their fashion information that reveals their personal style details to look, feel, and be their best. Let's look at some of the components.
PROFILE: SILHOUETTE
It's time to change the conversation! Describing women in disparaging terms of fruits and shapes to determine your body shape is nothing short of degrading, and does not provide a complete solution.
The reality is every woman falls into one of three silhouettes. Your silhouette is determined by the outer proportion of your shoulders compared to the outer proportion of your hips when you look full on in the mirror. That's the first requirement.
Which Silhouette are You?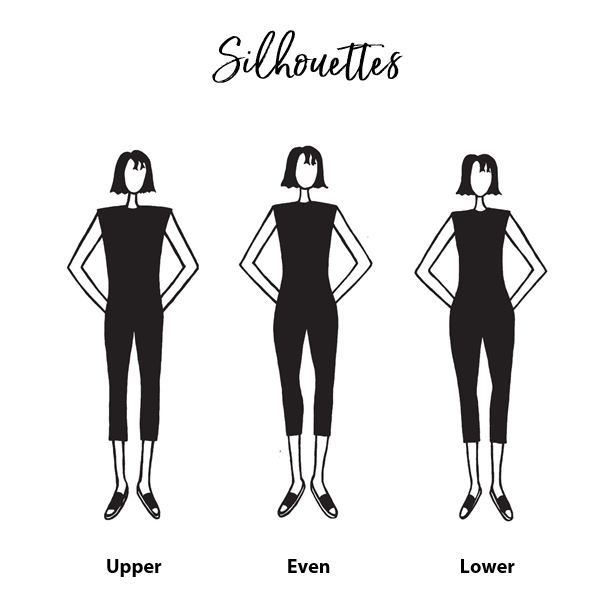 For example:
If you are a lower silhouette, you're typically a smaller size on top. Curvy hips are the reason you need to fit through the hip and take in at the waist. Choosing the correct size for your hips leaves pants and skirts too big in the waist. If you go down a size, the fabric pulls through the hips and perhaps the thighs. Sound familiar? The solution to this dilemma: have the waist taken in. A seamstress is the invisible secret to great style and, FYI 90% of women need to alter their clothing.
Upper silhouettes are a smaller size on the bottom. Broad shoulders look amazing in raglan sleeves as the diagonal line where the sleeve meets the bodice visually balances the shoulder. Uppers can be narrow in the hips and may need to fit through the waist, then take in the hips.
Even silhouettes come in many different proportions, but generally, this silhouette can fit a dress easily as they are the same size top and bottom.
PHYSICAL EVIDENCE: PROPORTIONS
Are you:
longer or shorter in the neck?
broader or narrower in the shoulders?
smaller or fuller through the bust?
short or long waisted?
longer or shorter in the arms, in the legs?
the list continues
NSB
Did you know your best necklines are the outcome of your NSB?
N – length of neck
S – breadth of shoulders
B – size of bust
We can look on the internet for neckline suggestions for a long or short neck, but how can that be the same for everyone? If you are shorter in the neck and have broad shoulders, your choice will differ from that of the next woman who is shorter and has narrow shoulders. What about the bustline? Your most flattering necklines depend on knowing the combination of your NSB.
Your proportions influence your favored sleeve lengths, waistband widths, pant styles, dress styles – each item of clothing you choose.
Putting your silhouette and proportions together is like completing a puzzle.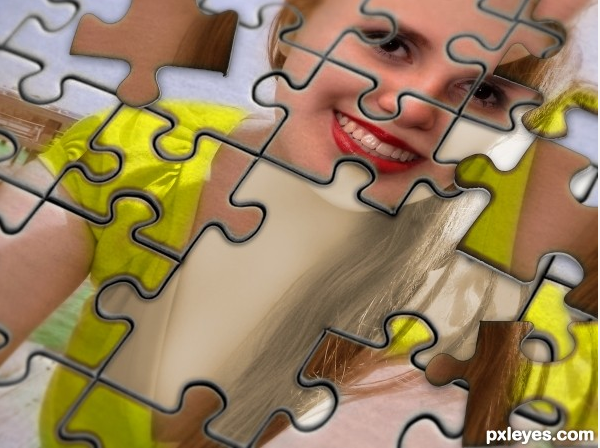 With a system to complete your puzzle, your style becomes easy.
MAKING DECISIONS: COLOUR
Colour is free! An outfit comes in one colour or another why not one that makes you look and feel amazing. Colour can enhance or detract from your skin tone, hair colour, eye colour, and personality.
Never underestimate the power of your best hues. Colour can lift your mood, bring a healthy glow to your skin, balance your silhouette, and non-verbally communicate to others.
When the colour is right you see an overall harmony to your look. When the hue is incorrect, the eye travels down to the colour, up to your face, down to the colour and up to your hair. There is no visible cohesiveness.
We have learned much from the early days of seasonal colour analysis.
A few facts:
not everyone is warm or cool; some have a neutral undertone
undertone along with value and intensity determine your colours
your personality affects your colours
your colours change as you age
after 30 incorrect colours are more difficult to wear
never cover your hair during colour analysis
after 50 your hair colour is the dominating factor, not your skin tone
an accurate colour palette should be individually prepared
colour swatches should reflect colours available in the marketplace to keep you current
As we are going through COVID, may I suggest keeping your colours light and/or bright, especially as we look forward to warm and sunny weather. Pick your softest shade to relax, your best bright for energy, and be aware that dark colours can feel heavy and bring down our mood.
Which is the better colour for each woman?*
Which colour creates harmony and draws the eye to the face?*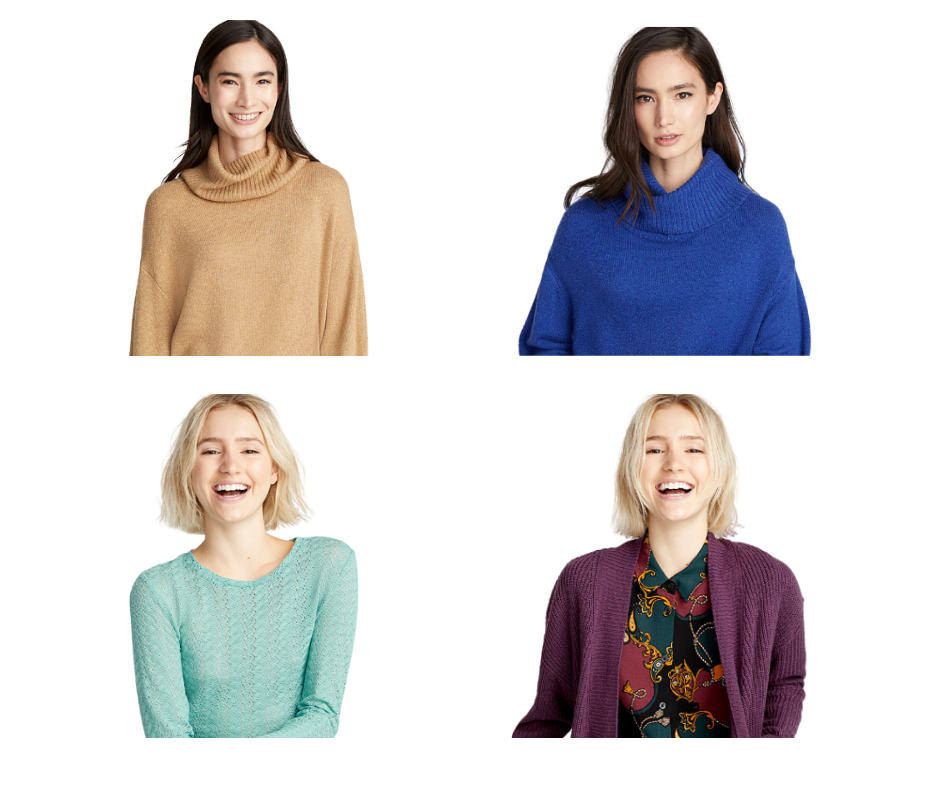 Not only is having your colours done fun and informative, it's a key element of personal style. With a simple headshot you can now have your colours done online!
And that's a wrap! Inspector Elegante used all her tools to unravel the mystery of online shopping. Now you can too!
Need a little extra help figuring out your best styles and colours? The Style File e-Consultation is on sale for 50% off until the end of May. Use code: series-estyle-50 at checkout.